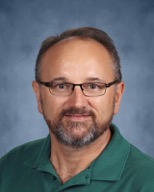 6th-8th grades Science and Health Teacher
& STEM Club Advisor
M.S. Biology, University of Nebraska
B.S. Ornamental Horticulture, University of Illinois
Years of education experience: 20
At CA: 2 years
There are some who teach and others who inspire learning. Russ has been inspiring students for the
past twenty years, cultivating a passion for science during a time when many believe math and science
literacy are on the decline in America. He earned a B.S. degree in horticulture from the University of
Illinois, as well as a M.S. in biology from the University of Nebraska, where he specialized in animal
behavior. Russ has fifteen years' experience teaching middle and high school, six years of teaching
at the community college level, as well as experience as a wildlife biologist. Incorporating his passion for
the outdoors, Russ creates a learning environment that is immersed in critical thinking and hands on
experience. He is married to Tammy Hendricks and has six children.
Published Works: